If you're looking for fine line tattoo inspiration we've short listed some of our favourite designs for you. For most people it can be a painstaking process trying to find tattoo inspiration. The only thing more painstaking than that? Then actually getting your design inked on you. Unless of course you're one of the lucky few that can fall asleep through a full day session of the ribs! A fine line tattoo is the perfect option for anyone that wants a wonderfully unique tattoo but doesn't want to endure the same kind of gruelling pain you get from your more traditional tattoos. Though they are delicately tattooed onto the skin, our in house team of talented artists at the Buzz Club – Tattoo Studio Leeds based in Hyde Park,
Leeds will ensure your ink lasts a lifetime!
1) Tattooine
2) Minimalistic Floral Womans Face
3) Floral Woman Tattoo Design
4) Woman With A Moon
5) Fine Line Lady Tattoo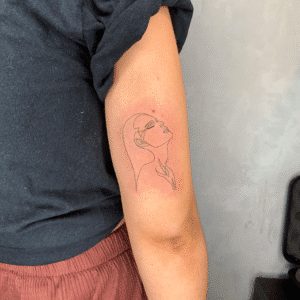 6) Fine Line Portrait Tattoo
7) Minimalistic Floral Tatto Design
8) Fine Line Dragon Tattoo
For more Information please don't hesitate to contact us.
Buzz Club – Tattoo Studio Leeds
154 Hyde Park Road
Hyde Park
Leeds
LS6 1AG
GENERAL ENQUIRIES.
info.leeds@buzzclubtattoo.co.uk
0113 450 8113